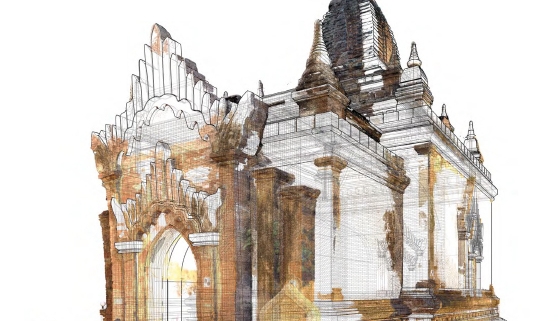 CIPA 2019 discussion on ethics
The 27th international CIPA symposium will host a discussion on ethical issues regarding heritage recording.
The Ethical Issues Faced by Heritage Recording Specialists and the Implications for Cultural Heritage Management: panel
Where: CIPA 2019 Symposium in Multipurpose
When: Wednesday Sept 4 [14:30-16:00]
In any professional association that serves the public interest, members have to abide by a number of ethical principles, and this is currently missing in the heritage recording field. This panel will gather major players in the heritage recording field for conservation, including representatives from CIPA, the Getty Conservation Institute, CIPA, Arck-Project, Cyark, Factum Foundation and ICONEM. The experts will discuss the need for ethical principles (or a code of ethics) applicable to the heritage recording specialist in their conduct, responsibilities, and professional practice. Focus will be given to the heritage recording practice contributing to better planning, recording, processing and dissemination of digital workflows for the conservation of historic places.
Furthermore, the panel will deal with the potential benefits but also in the profound respect expected from heritage recording specialists to the public, stakeholders and communities obtaining these digital products from their historic place.
Moderator: Mario Santana Quintero, ICOMOS/ISPRS CIPA
Rapporteur: Michelle Duong, CIMS, Carleton University
Format:
14:30 – 14:40 – Introduction to the Panel objectives and members. He asks the panel members:what obligations should a heritage recording specialist meet to respect the cultural heritage values of sites and the communities;
14:40 – 15:15 – Each panel member will provide an answer of 5 minutes length:

CIPA: Andreas;
Columbia University: Emily;
CyArk: Liz;
GCI: David:
Factum: Carlos;
ICONEM: Yves;

15:15 – 15:35 – Each panel member has 3 minutes to argue or support other participants arguments;
15:35 – 15:40 – Moderator opens the floor to the audience;
15:40 – 15:50 – Panel members answer the audience;
15:50 – 16:00 – Closing remarks by moderator.
Bio sketches:
Carlos Bayod Lucini is Project Director at Factum Foundation and Adjunct Assistant Professor of Historic Preservation at Columbia University's GSAPP. His work is dedicated to the development and application of digital technology to the documentation, study and dissemination of cultural heritage. Recent digitization projects include the scanning and facsimile reproduction of the Tomb of Seti I in Luxor, two vast masterpieces by Spanish Baroque painter Murillo in Seville or Malevich's iconic Black Square in Moscow. He also coordinates recording and training initiatives at ARCHiVe, a new centre in Venice devoted to digital preservation, co-founded by the Factum Foundation. Carlos received an MS in Architecture from the Technical University of Madrid and is a PhD candidate at the Spanish National Research Council with a thesis about the surface of paintings.
Michelle Duong is a Master of Architecture student at Carleton University and a participant in the NSERC CREATE Heritage Engineering program. She recently completed a Graduate Diploma in Architectural Conservation at Carleton after some time as a Research Team Lead in the Digitally Assisted Storytelling stream at the Carleton Immersive Media Studio (CIMS). She also completed a bachelor program in the History and Theory of Architecture, also at Carleton, and a Bachelor of Architectural Studies from the University of Waterloo. She is currently assisting on an international project of heritage documentation at CIMS.
Andreas Georgopoulos is full Professor of Photogrammetry and Director of the Lab of Photogrammetry of the School of Rural & Surveying Engineering of NTUA. He holds a Diploma of Surveying (NTUA 1976) and an MSc (1977) and a PhD (1981) in Photogrammetry from University College London. He has been teaching Photogrammetry and Documentation of Monuments since 1980 in UCL, NTUA and as visiting professor in KULeuven (RLICC), CUT (Dept. of Civil & Geomatics Eng.) and the University of Aegean. He has been Vice-Head (1998-2002) and Head (2002-2006) of the School of Rural & Surveying Eng. and member of the Research Committee of NTUA since 1999. Since 2006 he is a member of the Executive Board of the ISC of ICOMOS CIPA-Heritage Documentation and has served as Secretary General (2010-2014), while currently he is the President. Since 1985, he has participated in numerous research projects of the Lab of Photogrammetry concerning Digital Photogrammetry and Monument documentation. He has published approx. 250 scientific papers in international journals and conference proceedings. His research interests focus on 3D modeling of cultural heritage, photogrammetric automation, and digital contemporary techniques.
Elizabeth Lee serves as Vice President for Programs and Development for CyArk. Her expertise includes developing international partnerships in support of technology driven solutions for cultural heritage protection, education, and appreciation. Originally trained as an archaeologist with excavation experience in Turkey and Hungary, Elizabeth has been applying 3D technologies to the cultural field for over a decade. She has extensive experience in working with foreign governments and local communities including cultural ministries and the United Nations Educational Cultural and Scientific Organization (UNESCO). Elizabeth is a graduate of the University of California, Berkeley and is a member of the US Chapter of the International Council on Monuments and Sites (ICOMOS). She is a past winner in the South by Southwest (SXSW) Eco Place by Design competition.
David Myers a senior project specialist at the Getty Conservation Institute, where he has worked since 2001. He manages the GCI's Recording and Documentation Unit, and is part of the Buildings and Sites department. He manages the GCI's Inventories for Heritage Management project, and is a member of the GCI's Arches project team, having worked on the implementation of Arches with the City of Los Angeles and with national and local government authorities in England. Heworkedin the past worked on GCI projects in Jordan, Egypt, Southern Africa, for Iraq, and in Los Angeles. He holds an M.S. in historic preservation and an advanced certificate in architectural conservation and site management from the University of Pennsylvania, as well as an M.A in geography from the University of Kansas.
Mario Santana Quintero is an associate professor at the department of Civil and Environmental Engineering Carleton University. He is also the Director of the NSERC Create Heritage Engineering program based at the Carleton Immersive Media Studio lab (CIMS). He is also a guest professor at the Raymond Lemaire International Centre for Conservation (University of Leuven). Along with his academic activities, he serves as Vice President of the International Council of Monuments and Sites (ICOMOS) and he is a past president of the ICOMOS Scientific Committee on Heritage Documentation (CIPA). Furthermore, he has been a Getty Conservation Institute scholar and he collaborated in several international projects in the field of heritage documentation for The Getty Conservation Institute, UNESCO, Bahrain Authority for Culture and Antiquities, ICCROM, World Monuments Fund, UNDP, Welfare Association, and the Department of Culture and Tourism of Abu Dhabi.
Emily L. Spratt is an art historian, art technologist, and strategic advisor based in the Data Science Institute at Columbia University where she has an appointment as a postdoctoral fellow with co-sponsorship from the Departments of Historic Preservation and Computer Science.
She is currently researching the development of AI-enhanced technologies for the analysis, generation, and curation of art and architecture, and the ethics surrounding this subject. Emily did her doctoral studies in the Department of Art and Archaeology at Princeton University on Byzantine and Renaissance art and also holds degrees from the University of California, Los Angeles, and Cornell University. With much experience in the cultural heritage sector and the museum world, Emily also has taught in the Department of Art History and the program in cultural heritage and preservation studies at Rutgers University. Emily has been a consultant for The Frick Collection and Art Reference Library, was the former strategic advisor for Artory, the blockchain-based art market company, and is the ethics advisor for Iconem. In relation to her research in computer vision science, she curated the exhibition "Unhuman: Art in the Age of AI," which featured the then-pioneering generative art produced by the AICAN algorithm in Los Angeles and Frankfurt in October of 2017, and was showcased on CBS News.
Yves Ubelmann is an architect who specialises in the world's ancient monuments, many of which are fast vanishing as a result of armed conflict, urban development and natural disasters such as floods and earthquakes. His work takes him from Pompeii and Rome to Syria, Afghanistan and Iraq, from Oman to Haiti and back again to his homeland, France. He is the president and CEO of ICONEM.
https://www.cipaheritagedocumentation.org/wp-content/uploads/2019/08/panel.jpg
503
558
CIPA
https://www.cipaheritagedocumentation.org/wp-content/uploads/2017/11/CIPA_header.png
CIPA
2019-08-20 15:13:06
2019-08-20 15:27:21
CIPA 2019 discussion on ethics